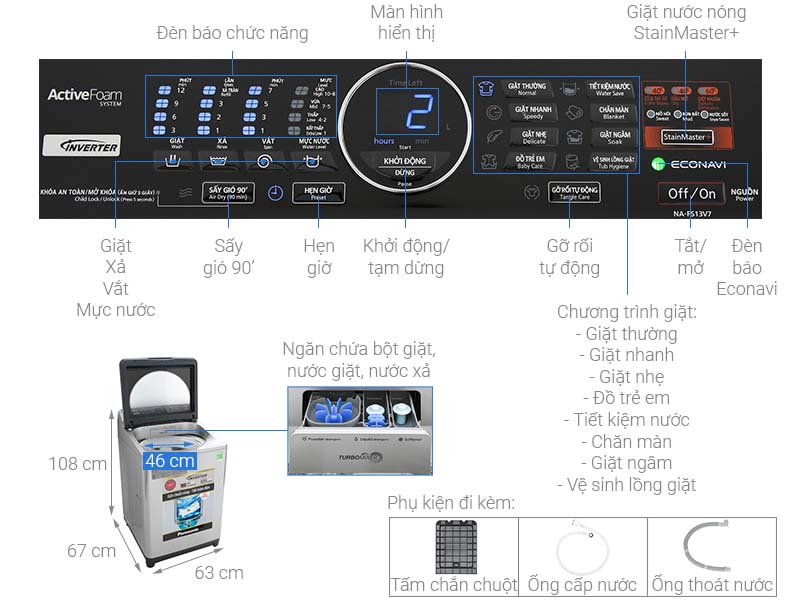 Elegant design, easy-to-use rear Vietnamese control panel
Panasonic washing machine Inverter 13.5 Kg NA-FS13V7SRV with a luxurious silver-gray design will highlight the interior space of the family. Combined with the Vietnamese control panel located at the back, the washing machine makes it more convenient and easier for you to manipulate and use.
Besides, the Panasonic washing machine 13.5 kg is ideal for a family of over seven people or a small motel business that can wash large blankets.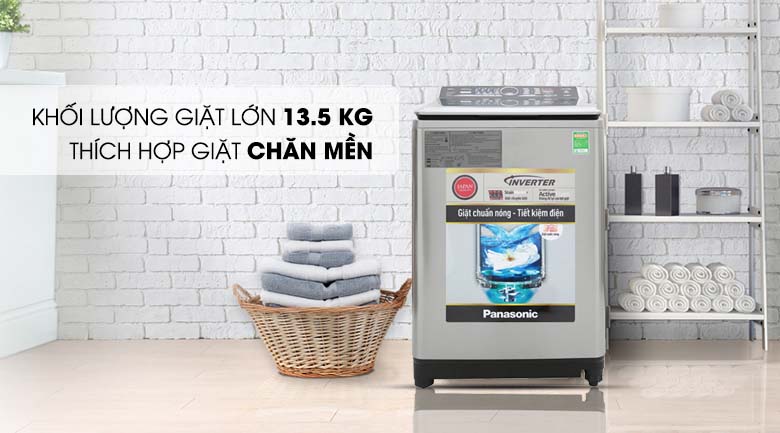 Inverter technology saves electricity effectively, quiet operation
Washing machine with Inverter technology effectively saves electricity, reducing monthly electricity bills for the family. In addition, thanks to inverter technology, the device operates more stable and durable.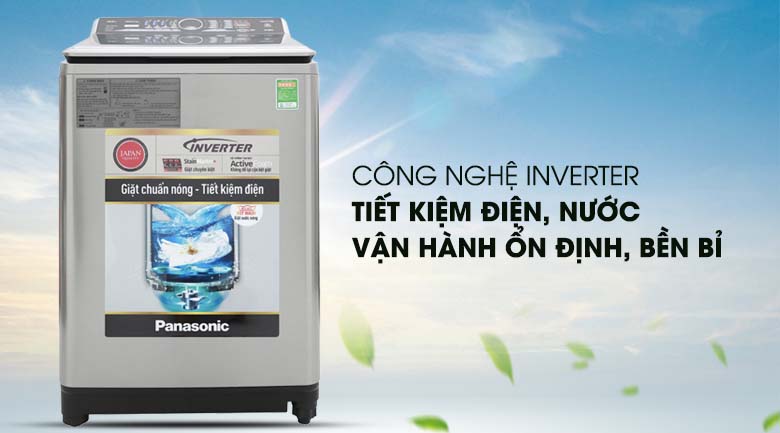 Econavi sensor intelligent, self-adjusting time, the most suitable amount of water to save costs
Panasonic washing machine with intelligent Econavi sensor will automatically offer a washing program suitable for the volume of clothes, water temperature, and fabric material to ensure the best washing ability but still save electricity costs and time.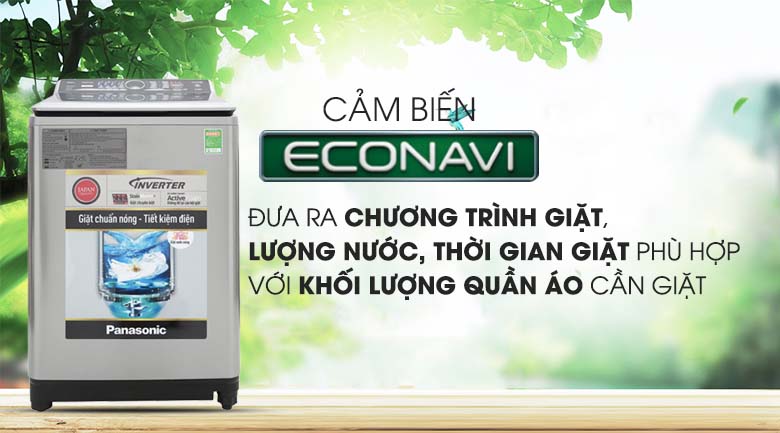 StainMaster+ hot water washing technology kills bacteria, protects the health of the whole family
With a washing water temperature that can be up to 60 degrees Celsius, StainMaster+ hot water washing technology not only removes stubborn stains such as dirt, grease, sauce... but can also kill all kinds of bacteria and allergens on clothes, protecting the health of your whole family.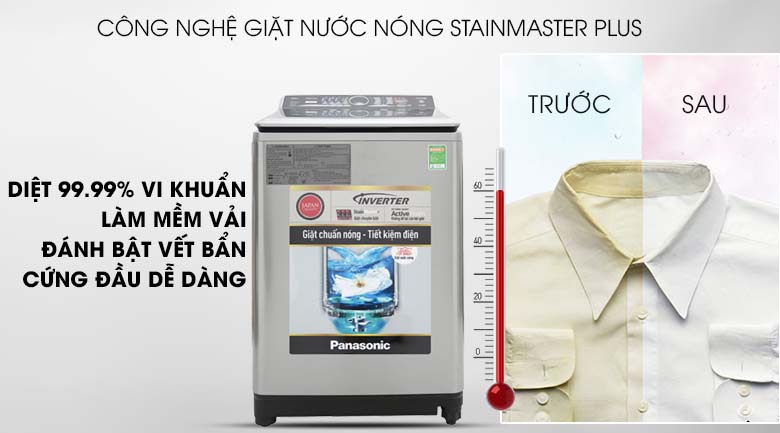 Double waterfall effect strong, easy to dissolve detergent, clothes evenly absorb washing water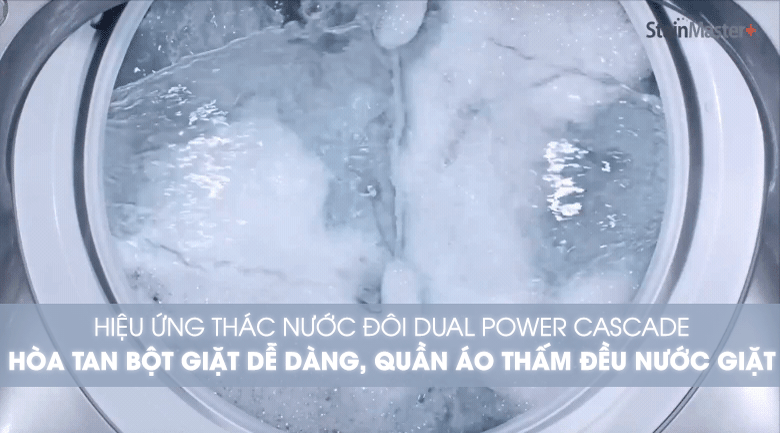 Turbo Mixer soap dispenser
Thanks to the Turbo Mixer soap dispenser, the detergent or washing liquid will be dissolved before pouring on the clothes, penetrating deep into the fabric, helping the clothes after being washed will no longer stick to the detergent residue, dissolving all most stubborn stains.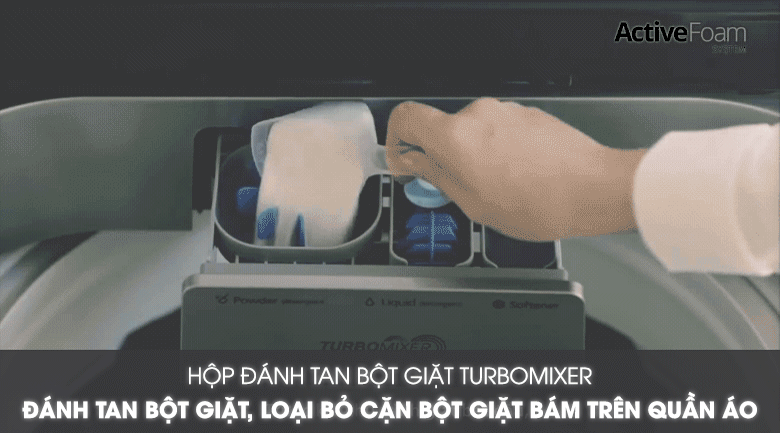 ActiveFoam foaming system effectively dissolves washing powder, preventing detergent residue that causes skin irritation
Thanks to the ActiveFoam system, the washing powder will be dissolved into a super fine foam, helping to penetrate deeply into each fabric, effectively removing stains, and at the same time preventing residual detergent residue, eliminating the risk of irritation skin reaction.